The Qantas Matildas

---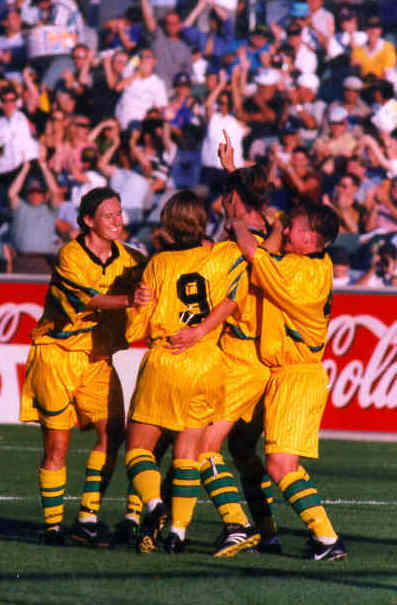 The Qantas Matildas are the Senior National Women's Soccer Team of Australia, competing at World Cup and Olympic Games level.
The Matildas have firmly established their supremacy in the Oceania region and taken their place amongst the world's best, competing at the last three of the sport's flagship event, the FIFA Women's World Cup.
Australia did not qualify for the inaugural Women's World Cup in 1991, finished 12th of twelve at the second World Cup in 1995, placed 11th of sixteen nations at the '99 World Cup, and 13th in 2003.
In Olympic competition, the Matildas finished 7th at the Sydney 2000 Olympic Games against the top-placed teams from the previous year's Women's World Cup, narrowly missing a berth in the semifinals. At Athens 2004, Australia reached the quarterfinals of the ten-team competition, and placed equal 5th after missing out on a semis spot.

(1) International Competition Schedule
(2) All Time Head-to-Head Results
(3) Year by Year Records

INTERNATIONAL COMPETITION SCHEDULE
2005 - The Qantas Matildas*
28 January - 1 February
Four Nation Women's Tournament
Australia / China / Germany / Russia
Quanzhou, China
*Further competition dates to be finalised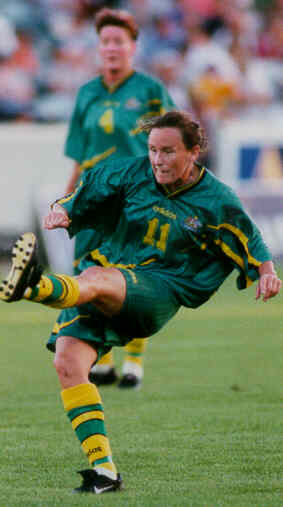 ALL-TIME HEAD-TO-HEAD RESULTS
Full 'A' internationals only
As at 22/Aug/04
Since appearing in their first A-International match (a 2-2 draw with traditional rivals New Zealand on 6 October 1979 in Sydney), the Matildas have played 169 full internationals; winning 66, drawing 29, and losing 74
AMERICAN SAMOA W-D-L 1-0-0; GF/GA 21/0
| | | | |
| --- | --- | --- | --- |
| 09 Oct 98 | Oceania World Cup Qualifiers | 21-0 W | Auckland, New Zealand |

ARGENTINA W-D-L 1-0-0; GF/GA 7/0
| | | | |
| --- | --- | --- | --- |
| 10 Apr 95 | Havelange Trophy | 7-0 W | Uberlandia, Brazil |

BELGIUM W-D-L 0-0-1; GF/GA 0/1
| | | | |
| --- | --- | --- | --- |
| 20 Aug 97 | European Tour | 0-1 L | Brussels, Belgium |

BRAZIL W-D-L 2-0-4; GF/GA 6/11
| | | | |
| --- | --- | --- | --- |
| 01 Jun 88 | International Women's Tournament | 1-0 W | Jiangmen, China |
| 15 Apr 95 | Havelange Trophy | 0-3 L | Uberlandia, Brazil |
| 17 Apr 95 | Havelange Trophy | 3-2 W | Uberlandia, Brazil |
| 06 Jun 99 | Pre-World Cup | 1-3 L | Portland, USA |
| 19 Sep 00 | OLYMPIC GAMES | 1-2 L | Sydney, NSW |
| 11 Aug 04 | OLYMPIC GAMES | 0-1 L | Thessaloniki, Greece |

CANADA W-D-L 6-2-5; GF/GA 16/17
| | | | |
| --- | --- | --- | --- |
| 12 Dec 87 | World Invitational | 2-0 W | Kaihsiung, Chinese Taipei |
| 17 Dec 87 | World Invitational | 0-0 D | Taipei Hsien, Chinese Taipei |
| 11 May 95 | Pre-World Cup | 0-3 L | Vancouver, Canada |
| 13 May 95 | Pre-World Cup | 3-0 W | Vancouver, Canada |
| 07 Jun 97 | US Women's Cup | 3-2 W aet | Oakford, USA |
| 10 Jan 99 | Australia Cup | 4-3 W | Canberra ACT |
| 09 Jun 99 | Pre-World Cup | 3-1 W | Etobicoke, Canada |
| 12 Jun 99 | Pre-World Cup | 0-2 L | Toronto, Canada |
| 04 Jun 00 | Pacific Cup | 0-2 L | Sydney NSW |
| 03 Apr 02 | Tournoi International de France | 0-0 D | Poitiers, France |
| 26 Sep 02 | Canada/US Women's Cup Tour | 0-2 L | Vancouver, Canada |
| 28 Sep 02 | Canada/US Women's Cup Tour | 1-0 W | Victoria, Canada |
| 14 Sep 03 | Pre-World Cup Tour | 0-2 L | Kingston, Canada |

CHINA W-D-L 2-3-13; GF/GA 12/40
08 Jun 88
International Women's Tourn
0-7 L
Guangzhou, China
08 Jun 95
WORLD CUP
2-4 L
Vasteras, Sweden
11 Jul 96
Pre-Olympic Tour
0-1 L
Bradenton, USA
14 Jul 96
Pre-Olympic Tour
1-2 L
Bradenton, USA
16 Nov 97
Tri-Nations Series
0-3 L
Lismore NSW
23 Nov 97
Tri-Nations Series
2-1 W
Canberra ACT
19 Mar 99
Algarve Cup
0-2 L
Lagos, Portugal
26 Jun 99
WORLD CUP
1-3 L
New Jersey, USA
28 Oct 99
Test Series
1-3 L
Zhuhai, China
31 Oct 99
Test Series
2-4 L
Xiamen, China
02 Jun 00
Pacific Cup
1-1 L
aet, 4-5ps
Sydney NSW
14 Aug 00
North Korea/China Tour
0-3 L
Yangzhou, China
17 Aug 00
North Korea/China Tour
0-0 W, 5-4ps
Shanghai, China
28 Aug 03
Pre-World Cup Tour
0-2 L
Jinan, China
31 Aug 03
Pre-World Cup Tour
0-2 L
Qingdao, China
25 Sep 03
WORLD CUP
1-1 D
Los Angeles, USA
24 Feb 04
Australia Cup
0-0 D
Brisbane QLD
01 Jul 04
Pre-Olympic Tour
1-1 D
Beijing, China

CHINESE TAIPEI W-D-L 1-0-3; GF/GA 5/11
| | | | |
| --- | --- | --- | --- |
| 01 Apr 86 | Oceania Cup | 0-1 L | Christchurch, New Zealand |
| 03 Apr 86 | Oceania Cup | 1-4 L | Christchurch, New Zealand |
| 31 Mar 89 | Oceania Cup | 1-4 L | Brisbane QLD |
| 05 Aug 95 | US Women's Cup | 3-2 W | Richmond, USA |

COOK ISLANDS W-D-L 1-0-0; GF/GA 11/0
| | | | |
| --- | --- | --- | --- |
| 07 Apr 03 | Oceania World Cup Qualifiers | 11-0 W | Canberra ACT |

CZECH REPUBLIC W-D-L 1-0-0; GF/GA 3/0
| | | | |
| --- | --- | --- | --- |
| 10 Jan 00 | Australia Cup | 3-0 W | Melbourne VIC |

DENMARK W-D-L 0-1-1; GF/GA 1/6
| | | | |
| --- | --- | --- | --- |
| 06 Jun 95 | WORLD CUP | 0-5 L | Vasteras, Sweden |
| 14 Mar 99 | Algarve Cup | 1-1 D | Faro, Portugal |

ENGLAND W-D-L 0-0-1; GF/GA 0/1
| | | | |
| --- | --- | --- | --- |
| 04 Sep 03 | Pre-World Cup Tour | 0-1 L | Burnley, England |

ESTONIA W-D-L 1-0-0; GF/GA 5/1
| | | | |
| --- | --- | --- | --- |
| 24 Aug 97 | European Tour | 5-1 W | Haapsalu, Estonia |

FIJI W-D-L 3-0-0; GF/GA 37/0
| | | | |
| --- | --- | --- | --- |
| 02 Dec 83 | Oceania Cup | 13-0 W | Noumea, New Caledonia |
| 15 Oct 98 | Oceania World Cup Qualifiers | 17-0 W | Auckland, New Zealand |
| 06 Mar 04 | Oceania Olympic Qualifiers | 7-0 W | Ba, Fiji |

FINLAND W-D-L 0-0-1; GF/GA 0/2
| | | | |
| --- | --- | --- | --- |
| 27 Aug 97 | European Tour | 0-2 L | Helsinki, Finland |

FRANCE W-D-L 2-1-1; GF/GA 4/3
| | | | |
| --- | --- | --- | --- |
| 11 Jan 01 | Australia Cup | 2-1 W | Coffs Harbour NSW |
| 14 Jan 01 | Australia Cup | 1-1 D | Lismore NSW |
| 17 Jan 01 | Australia Cup | 1-0 W | Gold Coast QLD |
| 09 Apr 02 | Tournoi International de France | 0-1 L | Limoges, France |

GERMANY W-D-L 0-0-1; GF/GA 0/3
| | | | |
| --- | --- | --- | --- |
| 13 Sep 00 | OLYMPIC GAMES | 0-3 L | Canberra ACT |

GHANA W-D-L 0-1-1; GF/GA 2/3
| | | | |
| --- | --- | --- | --- |
| 20 Jun 99 | WORLD CUP | 1-1 D | Boston, USA |
| 28 Sep 03 | WORLD CUP | 1-2 L | Portland, USA |

GREECE W-D-L 1-0-0; GF/GA 1/0
| | | | |
| --- | --- | --- | --- |
| 15 Aug 04 | OLYMPIC GAMES | 1-0 W | Heraklio, Greece |

HONG KONG W-D-L 1-0-0; GF/GA 6/0
| | | | |
| --- | --- | --- | --- |
| 13 Dec 87 | World Invitational | 6-0 W | Kaihsiung, Chinese Taipei |

HUNGARY W-D-L 1-0-0; GF/GA 4/0
| | | | |
| --- | --- | --- | --- |
| 11 Aug 97 | European Tour | 4-0 W | Csakvar, Hungary |

ITALY W-D-L 1-0-3; GF/GA 2/5
31 May 97
US Women's Cup
0-3 L
Salem, USA
08 Jan 99
Australia Cup
1-1 L
aet, 3-4ps
Sydney NSW
13 Jan 99
Australia Cup
1-0 W
Canberra ACT
09 Oct 02
US Women's Cup
0-1 L
Cary, USA

JAPAN W-D-L 2-7-0; GF/GA 17/12
| | | | |
| --- | --- | --- | --- |
| 00 Oct 84 | Xian International Tournament | 6-2 W | Xian, China |
| 08 Dec 84 | World Invitational | 2-2 D | Taipei, Chinese Taipei |
| 04 Dec 89 | Prima Cup | 2-2 D | Kanagawa, Japan |
| 05 Dec 89 | Prima Cup | 1-1 D | Kanagawa, Japan |
| 27 Sep 94 | Test Match | 2-2 D | Tokyo, Japan |
| 09 Jul 96 | Pre-Olympic Tour | 2-2 D | Fort Lauderdale, USA |
| 31 May 00 | Pacific Cup | 1-0 W | Canberra ACT |
| 06 Apr 02 | Tournoi International de France | 1-1 D | Angouleme, France |
| 27 Jul 03 | 3-Nations International Tourn | 0-0 D | Miyagi, Japan |

MEXICO W-D-L 2-0-1; GF/GA 4/3
| | | | |
| --- | --- | --- | --- |
| 29 Jan 03 | Australia Cup | 2-0 W | Canberra ACT |
| 08 Jul 04 | Pre-Olympic Tour | 2-1 W | Mexico City, Mexico |
| 11 Jul 04 | Pre-Olympic Tour | 0-2 L | Guadalajara, Mexico |

NETHERLANDS W-D-L 0-1-0; GF/GA 1/1
| | | | |
| --- | --- | --- | --- |
| 15 Aug 97 | European Tour | 1-1 D | Grootebroek, The Netherlands |

NEW CALEDONIA W-D-L 1-0-0; GF/GA 5/0
| | | | |
| --- | --- | --- | --- |
| 30 Nov 83 | Oceania Cup | 5-0 W | Noumea, New Caledonia |

NEW ZEALAND W-D-L 15-5-9; GF/GA 42/28
| | | | |
| --- | --- | --- | --- |
| 06 Oct 79 | Test Series | 2-2 D | Sydney NSW |
| 08 Oct 79 | Test Series | 0-1 L | Sydney NSW |
| 13 Oct 79 | Test Series | 1-0 W | Brisbane QLD |
| 18 May 80 | Test Series | 3-3 D | Auckland, New Zealand |
| 21 May 80 | Test Series | 1-1 D | Wellington, New Zealand |
| 24 May 80 | Test Series | 3-2 W | Christchurch, New Zealand |
| 05 Oct 81 | New Zealand Tour | 2-1 W | Auckland, New Zealand |
| 28 Nov 83 | Oceania Cup | 0-0 D | Noumea, New Caledonia |
| 04 Dec 83 | Oceania Cup | 2-3 L aet | Noumea, New Caledonia |
| 12 Dec 84 | World Invitational | 0-3 L | Taipei, Chinese Taipei |
| 00 Apr 86 | Oceania Cup | 1-0 W | Christchurch, New Zealand |
| 19 Dec 87 | World Invitational | 0-1 L | Taipei City, Chinese Taipei |
| 26 Mar 89 | Oceania Cup | 0-2 L | Brisbane QLD |
| 20 May 91 | Oceania World Cup Qualifiers | 0-1 L | Sydney NSW |
| 24 May 91 | Oceania World Cup Qualifiers | 1-0 W | Sydney NSW |
| 00 Oct 91 | Test Series | 0-0 D | New Zealand |
| 00 Oct 91 | Test Series | 0-3 L | New Zealand |
| 00 Oct 91 | Test Series | 0-2 L | New Zealand |
| 14 Oct 94 | Oceania World Cup Qualifiers | 1-2 L | Port Moresby, Papua New Guinea |
| 18 Oct 94 | Oceania World Cup Qualifiers | 1-0 W | Port Moresby, Papua New Guinea |
| 17 Mar 95 | Test Series | 4-0 W | Canberra ACT |
| 19 Mar 95 | Test Series | 2-0 W | Canberra ACT |
| 24 Mar 96 | M-Wey Tri-Series | 3-0 W | Auckland, New Zealand |
| 30 Mar 96 | M-Wey Tri-Series | 2-0 W | Auckland, New Zealand |
| 19 Nov 97 | Tri-Nations Series | 2-0 W | Newcastle NSW |
| 17 Oct 98 | Oceania World Cup Qualifiers | 3-1 W | Auckland, New Zealand |
| 07 Jun 00 | Pacific Cup | 4-0 W | Newcastle NSW |
| 13 Apr 03 | Oceania World Cup Qualifiers | 2-0 W | Canberra ACT |
| 18 Feb 04 | Australia Cup | 2-0 W | Brisbane QLD |

NORTH KOREA W-D-L 1-2-2; GF/GA 2/4 *
| | | | |
| --- | --- | --- | --- |
| 29 Aug 98 | Test Series | 0-0 D | Pyongyang, North Korea |
| 01 Sep 98 | Test Series | 0-0 D | Pyongyang, North Korea |
| 04 Sep 98 | Test Series | 1-0 W | Pyongyang, North Korea |
| 08 Aug 00 | North Korea/China Tour | 0-2 L | Pyongyang, North Korea |
| 11 Aug 00 | North Korea/China Tour | 1-2 L | Pyongyang, North Korea |
* The match versus North Korea in the Australia Cup, 22 Feb 2004 in Brisbane, is not recorded as an official international, as the match was abandoned with only 45 minutes played due to adverse weather conditions

NORWAY W-D-L 0-0-3; GF/GA 1/12
| | | | |
| --- | --- | --- | --- |
| 05 Jun 88 | International Women's Tourn | 0-3 L | Jiangmen, China |
| 29 Jul 95 | US Women's Cup | 0-2 L | Worcester, USA |
| 01 Sep 97 | European Tour | 1-7 L | Oslo, Norway |

PAPUA NEW GUINEA W-D-L 8-0-0; GF/GA 68/0
| | | | |
| --- | --- | --- | --- |
| 28 Mar 89 | Oceania Cup | 6-0 W | Brisbane QLD |
| 21 May 91 | Oceania World Cup Qualifiers | 12-0 W | Sydney NSW |
| 25 May 91 | Oceania World Cup Qualifiers | 8-0 W | Sydney NSW |
| 16 Oct 94 | Oceania World Cup Qualifiers | 7-0 W | Port Moresby, Papua New Guinea |
| 19 Oct 94 | Oceania World Cup Qualifiers | 4-0 W | Port Moresby, Papua New Guinea |
| 11 Oct 98 | Oceania World Cup Qualifiers | 8-0 W | Auckland, New Zealand |
| 09 Apr 03 | Oceania World Cup Qualifiers | 13-0 W | Canberra ACT |
| 04 Mar 04 | Oceania Olympic Qualifiers | 10-0 W | Ba, Fiji |

PORTUGAL W-D-L 0-1-0; GF/GA 0/0
| | | | |
| --- | --- | --- | --- |
| 17 Mar 99 | Algarve Cup | 0-0 D | Olhao, Portugal |

RUSSIA W-D-L 2-1-2; GF/GA 8/5
| | | | |
| --- | --- | --- | --- |
| 20 Apr 94 | Gold Coast Invitational | 1-2 L | Brisbane QLD |
| 23 Apr 94 | Gold Coast Invitational | 1-1 D | Southport QLD |
| 12 Aug 94 | European Tour | 3-0 W | Samara, Russia |
| 06 Oct 02 | US Women's Cup | 2-0 W | Cary, USA |
| 21 Sep 03 | WORLD CUP | 1-2 L | Los Angeles, USA |

SAMOA W-D-L 1-0-0; GF/GA 19/0
| | | | |
| --- | --- | --- | --- |
| 05 Apr 03 | Oceania World Cup Qualifiers | 19-0 W | Canberra ACT |

SCOTLAND W-D-L 1-1-0; GF/GA 1/0
| | | | |
| --- | --- | --- | --- |
| 18 May 95 | Pre-World Cup | 0-0 D | Kilmarnock, Scotland |
| 06 Sep 03 | Pre-World Cup Tour | 1-0 W | Livingston, Scotland |

SOUTH KOREA W-D-L 5-1-1; GF/GA 10/3
| | | | |
| --- | --- | --- | --- |
| 25 Mar 96 | M-Wey Tri-Series | 1-0 W | Auckland, New Zealand |
| 29 Mar 96 | M-Wey Tri-Series | 1-2 L | Auckland, New Zealand |
| 13 Jan 02 | Australia Cup | 1-0 W | Wagga Wagga NSW |
| 16 Jan 02 | Australia Cup | 1-0 W | Albury NSW |
| 19 Jan 02 | Australia Cup | 4-1 W | Bendigo VIC |
| 26 Jan 03 | Australia Cup | 2-0 W | Canberra ACT |
| 25 Jul 03 | 3-Nations International Tourn | 0-0 D | Miyagi, Japan |

SWEDEN W-D-L 2-1-5; GF/GA 6/17
| | | | |
| --- | --- | --- | --- |
| 27 May 95 | Pre-World Cup | 0-5 L | Helsingborg, Sweden |
| 07 Aug 97 | European Tour | 1-0 W | Ostersund, Sweden |
| 20 Mar 99 | Algarve Cup | 1-1 W 7-6ps | Montechoro, Portugal |
| 23 Jun 99 | WORLD CUP | 1-3 L | Washington DC, USA |
| 07 Jan 00 | Australia Cup | 0-2 L | Sydney NSW |
| 16 Sep 00 | OLYMPIC GAMES | 1-1 D | Sydney NSW |
| 01 Feb 03 | Australia Cup | 1-3 L | Canberra ACT |
| 20 Aug 04 | OLYMPIC GAMES | 1-2 L | Volos, Greece |

THAILAND W-D-L 1-0-0; GF/GA 3/0
| | | | |
| --- | --- | --- | --- |
| 03 Jun 88 | International Women's Tourn | 3-0 W | Jiangmen, China |

USA W-D-L 0-1-16; GF/GA 11/62
| | | | |
| --- | --- | --- | --- |
| 16 Dec 87 | World Invitational | 0-6 L | Taipei City, Chinese Taipei |
| 20 Jan 95 | Test Series | 0-5 L | Phoenix, USA |
| 23 Jan 95 | Test Series | 1-4 L | Phoenix, USA |
| 10 Jun 95 | WORLD CUP | 1-4 L | Helsingborg, Sweden |
| 03 Aug 95 | US Women's Cup | 2-4 L | New Brunswick, USA |
| 04 Jul 96 | Pre-Olympic Tour | 1-2 L | Tampa, USA |
| 06 Jul 96 | Pre-Olympic Tour | 1-2 L | Pensacola, USA |
| 28 Feb 97 | Ram Sports Cup | 0-4 L | Melbourne VIC |
| 02 Mar 97 | Ram Sports Cup | 1-3 L | Bathurst NSW |
| 05 Mar 97 | Ram Sports Cup | 0-3 L | Canberra ACT |
| 05 Jun 97 | US Women's Cup | 1-9 L | Ambler, USA |
| 03 Jun 99 | Pre-World Cup | 0-4 L | Portland, USA |
| 13 Jan 00 | Australia Cup | 1-3 L | Adelaide SA |
| 11 Jun 00 | Pacific Cup | 0-1 L | Newcastle NSW |
| 02 Oct 02 | US Women's Cup | 0-4 L | Cary, USA |
| 21 Jul 04 | Pre-Olympic Tour | 1-3 L | Blaine, USA |
| 17 Aug 04 | OLYMPIC GAMES | 1-1 D | Thessaloniki, Greece |
Key : W-D-L = Win-Draw-Loss record; GF = Goals For; GA = Goals Against; aet = After Extra-Time; ps = penalty shootout

YEAR-BY-YEAR RECORDS
The Matildas
Full 'A' internationals only
*As at 22/Aug/04
| | | | | | | |
| --- | --- | --- | --- | --- | --- | --- |
| Year | P | W | D | L | GF | GA |
| 1979 | 3 | 1 | 1 | 1 | 3 | 3 |
| 1980 | 3 | 1 | 2 | 0 | 7 | 6 |
| 1981 | 1 | 1 | 0 | 0 | 2 | 1 |
| 1983 | 4 | 2 | 1 | 1 | 20 | 3 |
| 1984 | 3 | 1 | 1 | 1 | 8 | 7 |
| 1986 | 3 | 1 | 0 | 2 | 2 | 5 |
| 1987 | 5 | 2 | 1 | 2 | 8 | 7 |
| 1988 | 4 | 2 | 0 | 2 | 4 | 10 |
| 1989 | 5 | 1 | 2 | 2 | 10 | 9 |
| 1991 | 7 | 3 | 1 | 3 | 21 | 6 |
| 1994 | 8 | 4 | 2 | 2 | 20 | 7 |
| 1995 | 17 | 6 | 1 | 10 | 28 | 43 |
| 1996 | 9 | 3 | 1 | 5 | 12 | 11 |
| 1997 | 16 | 6 | 1 | 9 | 21 | 40 |
| 1998 | 7 | 5 | 2 | 0 | 50 | 1 |
| 1999 | 16 | 4 | 3 | 9 | 18 | 32 |
| 2000 | 15 | 4 | 1 | 10 | 13 | 22 |
| 2001 | 3 | 2 | 1 | 0 | 4 | 2 |
| 2002 | 11 | 5 | 2 | 4 | 10 | 10 |
| 2003 | 17 | 7 | 3 | 7 | 54 | 15 |
| 2004* | 12 | 5 | 3 | 4 | 26 | 11 |
| Total | 169 | 66 | 29 | 74 | 341 | 251 |
Key - P = Matches Played; W = Wins; D = Draws; L = Losses; GF = Goals For; GA = Goals Against
---
This page is produced by Women's Soccer in Australia
All Enquiries should be directed to: Ph (02) 6281 7999 or Fax (02) 6281 7975
matildas@ausport.gov.au