| | | |
| --- | --- | --- |
| The Game That Hammy Remembers | | |
Thursday, 16 July 2009 19:48
Hammy McMeechan shines with the joy of life. Friendly, talkative, interested, with stories and an accent that could keep me entertained for weeks, he is a man with few regrets. But he does have at least one. A Scot who came to Australia to play with Slavia-Port Melbourne in 1963, became a Socceroo and starred with Melbourne Croatia for five years in the late 1960s, Hammy regrets that he never got to play for South Melbourne Hellas. "Don't get me wrong, Ian," he warns. "I had a fabulous and successful time playing for Croatia and I made many life-long friends there. But what I always admired about Hellas was the crowd: its size, its passion and its noise. I would have loved to have played there every second week with that crowd behind me for at least a season or two."
Hammy contacted me after I wrote the piece in last week's NKEE about the Slavia-VFL match. Readers will recall he played in that game, on the wing; and he wanted to add to what is becoming an ever-more fascinating story.
I met up with Hammy over a cup of coffee and three hours later came away with a terrific impression of a man who had lived and loved Australian soccer with a passion few could surpass.
As was pointed out last week, the soccer boom of the early 1960s produced various responses, but perhaps none as fascinating as the idea of a soccer-VFL match. Jack Dyer, 'Captain Blood' challenged Slavia-Port Melbourne to match to raise money for the Victorian Society for Crippled Children and Adults.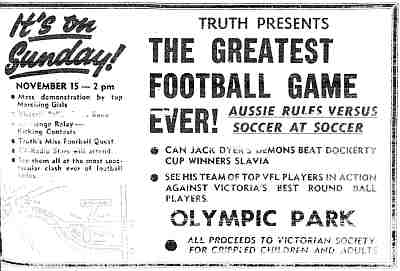 The idea for the game came about after Dyer had been a guest of the Victorian Soccer Federation at the final of the 1964 Dockerty Cup, won by Slavia 1-0 over Footscray JUST. Dyer repaid his hosts' generosity by writing in his subsequent Truth column on 10 October, "I went, I saw and I was sickened. Soccer . . . It really is a girls' game – but only for big girls." He felt that if he were allowed to train the best of the VFL players in the rudiments of the game they would easily beat a team of soccer players.
This rankled with a number of the Slavia team, and Dave Meechan, invited onto Channel 7's 'Wide World of Sport' by Alec Barr, suggested that Dyer should put his money where his mouth was. Dyer issued the challenge and Slavia accepted; the game was set for 15 November 1964.
We reported that Manolis Papadopoulos remembers the footy players making their intentions clear immediately. According to Papadopoulos, Barassi led the charge, literally, taking every opportunity to rough-up Slavia players. This backfired when Barassi went into a tackle and was let down by his woeful technique. John Auchie simply put his foot behind the ball and when Barassi came charging through for a massive toe-bash he found himself flying through the air and landing in a crumpled, injured heap. Barassi had to leave the field, not to return.
Ray Barotajs alludes to Barassi's injury in his own Truth column shortly after the game on 21 November: "I think the VFL boys would be the first to admit now that it isn't a girl's game – just ask Ron Barassi."
Many years later, Hammy met Barassi in a King Street newsagency where they happily recalled the match and the incident. Hammy claims Barassi confided, "That was the injury that eventually made me give footy away."
It should be emphasised that Hammy refutes the notion that the footy players were 'putting it about' or trying to bully the Slavia team. He claims that a marvellous spirit of goodwill had developed between the players, most of whom displayed the mutual respect that sports people have for each other's abilities. After all, the Slavia players were the ones who had trained the VFL team in the rudiments of the game.
Hammy says, "They were decent guys, especially Kevin Murray. They respected us for our skills and as people." He also recalls a moment of hilarity when prior to the game he went into the VFL rooms to say hello to the footy players and was amazed by Paul Wadham's size 13 boots. He put them on and went back into the Slavia rooms saying, "Look at my skis!" In the meantime Wadham returned to find his boots missing but was happy to enjoy the joke when Hammy came back in with them on such was the camaraderie between the teams.
When it came to the game, however, it really was over before it started. The footy players were so technically deficient that they stood no chance of winning. The below photograph of the VFL stars trying to clear a ball from their defence speaks a thousand words on this point.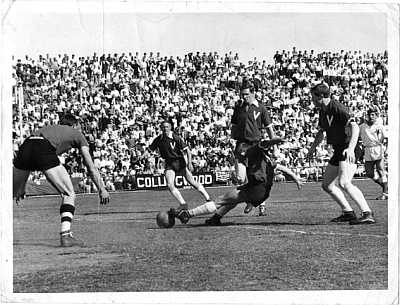 In a moment that demonstrated just how difficult the translation was for the VFL players, Hammy ran on to a through ball with his marker, Brownlow Medallist Gordon Collis in tow. He could feel Collis's massive frame bearing down on him and so played a neat backheel to his captain and right-half, John Sanchez. But, instead of stopping, Hammy kept racing toward the corner flag. And Collis kept right on following! Arriving at the flag he turned around with his arms outstretched as if to say to Collis, "What are you going to do now?" Collis turned away grumpily, to the amusement of the massive crowd.
At the break (they had agreed to play 25-minute halves) the score was 3-0 to Slavia, decisive without being embarrassing. Having now recognised what was an obvious mis-match, representatives of the VFL team came into the Slavia dressing room at half-time asking if they could play Australian Rules in the second half. The Slavia coach, former Manchester United player, Brian Birch, said, "Look at my players. Hammy's the biggest forward and he's only 5' 6". No way. We never said we could beat you at your game!" 
The Sun's soccer reporter, the American, Morrie Buckner suggested that the VFL team improved in the second half but unfortunately for them so did Slavia, running out 8-0 winners. As he wrote in his match report: "A dozen VFL stars showed little more than faith and hope when they played for charity in an exhibition soccer match at Olympic Park yesterday."
Thankfully missing from Buckner's measured report is the Globe's rhetoric of footy triumphalism. Though, if disappointed, footy fans might have derived some joy from his reporting that the VFL won the four-man relay race and Barassi won the long-distance kicking competition (Sherrins and soccer balls) conducted prior to the match! To round out the pre-Match contests, Slavia's Shepherd won the kicking-accuracy competition.
A valid point is made by Hammy when he says the might of the VFL was up against one semi-professional soccer team. "We only had the best runners in our club and we were up against men like Bluey Adams who had competed in the Stawell gift. I'm not saying we would have won the race but had we been able to select from the speedsters in the other soccer clubs we would have given them a better run."
From this point Hammy's career in Australian soccer blossomed. Receiving his first cap along with John Warren in Australia's inaugural and doomed attempt to qualify for the World Cup against North Korea, he went on to win the hearts and respect of Australian soccer fans across the country. He won further championships with Croatia, West Adelaide Hellas and Juventus in Melbourne and he played professionally in Japan before retiring from the game. Currently he is coaching at Boroondarra Eagles.
Hammy was delighted to have his memories of the day in November 1964 rekindled and an opportunity to talk about it in detail. But he was at pains to point out that however cynical the spark for the game might have been, it was played in an atmosphere of mutual respect and enjoyment. "After all," he points out, "the game raised over £2600 for charity – a hell of a lot of money in that time – and when it gets down to it that's probably the most important thing we can take from the whole day."
As we part, Hammy recalls with a wistful chuckle that prior to the game, when his workmates found that he would be marked by Gordon Collis, he was told, "You won't get a touch!"