| | | |
| --- | --- | --- |
| In Despatches | | |
Wednesday, 17 July 2013 19:48
September 1915
Lieutenant J. L. Digby, was a young Sydney doctor with the Royal Army Medical Corps, he wrote in a letter from "Somewhere In France" to his mother at Neutral Bay, "The sporting side is not forgotten. One of the batteries brought out a soccer football, and the right section played the left. The other day there was an inter-battery match, and much wild excitement."
May 1915
Private Sydney J. Penhaligon, of the Third Field Ambulance, First Contingent, A.I.F., was struck by a mortar and died of wounds next day on board the hospital ship Gascon. His entry for January 9. "Cleaning harness on horses ; have all teams out. Inspection by A.A.A.F. and working all afternoon. Soccer team from ABC sections beaten by Lanes. Fusiliers, 2-0, at Citadel."
Jan 1916
H Spring, of the officers' mess at Thompson's Paddock, Enoggera, requests to make an appeal on behalf of the boys of that paddock for two Soccer footballs. We feel sure the request will not go unheeded.
March 1916
A new British Association football has been donated by the Caledonian Society and Burns Club for the use of the 29th A.S.C., Enoggera.
A trial match British Association rules between the 10th of the 20th and the 42nd Battalion was played at Enoggera on Saturday afternoon, inorder to select a representative team to play on April 8 in the benefit matches for Pte Nowland. After a keen game the 42nd won by 2 goals to nil.
April 1916
A football match will be played on the Esplanade tomorrow afternoon in aid of the Red Cross Fund, between teams selected from the Anzacs and the W.A.B.F. Association. The teams are: — Anzacs.— captains S. Jackson, W. Rockliffe, Sergts. J. Booth, Piper, Privates W. H. Jones, P. Parkin, A.Reynolds, 0. Gomme, J, Todd, J. Balsdon, and Gunner Iles; emergencies, Privates Sylvester and Robinson. Association.— Riva, Evans, Wallls, McLellan, Davis (capt.), Gordon, Berlensky, Winning, Smart, Utting, Nesblt; emergencies,' Bing, Low, Martin, and Farrar.
June 1916
Mr J. G Scott, secretary of the Geraldton British Football Association, has received a number of postcards thanking the Association for its gifts of tobacco and cigarettes. ln every case the recipients say how welcome and acceptable each gifts are, as allowances of smokes have a habit of getting exhausted before the next issue is due. Most of the cards are from the Light Horse, who wore then in Egypt.
July 1916
A team from the Claremont Hospital for the Insane and an eleven from the 3rd/44th and 6th/51st AIF tried conclusions at Claremont yesterday, a willing game resulting. The soldiers were on the aggressive most of the time, and ultimately ran out winners bv 4 goals to 0.
August 1916
Devotees of British Association Football will be catered for this afternoon by a match, which will be played on the South Melbourne Cricket Ground between teams representing the Navy and the Army. The kick off will take place at 3.30: pm., and the price of admission will be sixpence and one shilling. The of the proceeds will be equally divided between the Navy and Army comfort funds. Record (Emerald Hill, Vic), Saturday 26 August 1916
March 1916
Jack Sargood to the Boys.
An Old Auburn Soccer Talks Straight.
Digs from the Firing Line.
Corporal Jack Sargood, well known as a prominent footballer at Auburn, writing from Lemnos Island.
"We are still on this island resting, and hope to be here till after Christmas, so as you see we are safe for quite a long time yet; but I don't think that I will ever get knocked out in this war, as I have been hit too many times already. I don't know how the young follows can stroll around the streets while the Germans continue their murderous tricks.......It makes the boys wild over here to read in the papers and see where a football match was played before thousands of spectators when the country is calling for volunteers. Another thing is the men going out on strike. They ought to send the whole lot over here. They are going out on strike while we are over here not knowing whether we are going to sleep in the rain or going to be in a charge at any minute. I think the men of Australia ought to be ashamed of themselves. I saw in the paper in big letters, Auburn's Poor Response at a recruiting meeting. Well, I got a shock when I read that, for I thought nearly all the boys from Auburn would enlist, but I see I am mistaken. I wonder what they would do if the Germans did win. I suppose they would give their sisters up to save themselves. Well that is what I think they would do by the way some of them are behaving."
Sept 1916
Hats off to Jimmy Turnbull, North Sydney's captain. Just after the advent of the war he heard the call and joined up. Alter a lengthy terms of service on the Peninsula he received a bullet wound in the neck, and was invalided home and subsequently discharged from the forces in the early part of this year. His attachment to the soccer game would not permit of his being idle, so he entered into the service of the game as a referee, but after a week or so of whistling he joined up with his old North Sydney Club and steered the club through the competition. The Prime Minister's appeal for more men was taken to heart by James, who again faced the enrolling officer. 'Accepted.' signified this official, so once more Jimmy signed on for Australia. Said J.T. to me recently : 'This world war between the patriots and the antis, gets one raw everytime one thinks of it. Australia and humanity demands that we of the Southern Seas should not be sluggards. Those who pretend to have the interests of Australia at heart can best serve her in the firing line. And while the wrangling is doing on let us who are returned Anzacs prove our willingness to again face the music. A hell worse than Gallipoli's will not stop me from serving my country. But (this in a reproaching strain) it does teem hard that returned men should go forth to protect those who will not protect themselves.' Hats off to James Turnbull.
December 1916
The members of the Locomotive (British) Football dub met on Tuesday evening at the Y.M.C.A. to do honour to members who have enlisted for active service. Mr. R. J. Holiday (Chairman of the Association) presided over a large attendance of members. The Chairman, in unveiling a roll of honour containing 30 names, referred in feeling terms to the fact that four members had made the supreme sacrifice for Empire and civilization. A toast to the memory of 'absent ones' was honoured in silence. The Register (Adelaide, SA), Saturday 16 December 1916
March 1916
Corporal Will Dane, of Granville Soccer fame, who left with the 19th Reinforcements, 1st Infantry Brigade, on active service abroad, writes to a friend. 'They called at the Cape, and two days later at Durban, whom they were hospitably entertained by the citizens to jaunts and free travelling everywhere they want to go. A football match was also played between teams from the troopship and the English Tommies, in which Corporal Dane and Corporal Haigh (of Canterbury Club) took part. The heat was terrific, and to this fact principally the game ended in a draw.'
Aug 1916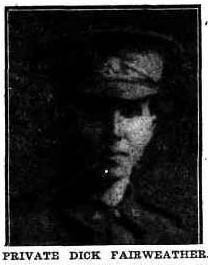 The parents of Private Richard Fairweather also received word this week that their son was among the missing. He left in December with his chum, Norman Brown (also reported missing), and at the time of enlisting was in business in Parramatta. He was a well known Soccer footballer and a member of the Holroyd and Magpie Crows.
*Private Fairweather was captured by Germans at Levantie on 20th July 1916.
April 1916
FOOTBALL ROLL OF HONOUR
Tho Granville and District Football Association has had prepared a handsome polished cedar honour board, on which are to be inscribed the names of about 60 Soccer football players who have enlisted.
March 1918
In a letter written somewhere in France, Driver John McKenzie wrote ; "We have been playing a lot of football the last month or two, both codes. I myself have been playing with the Brigade soccer team. We have had a fair percentage of wins but some of the British combinations were too good for us, especially the Royal Flying Corps whom we drew against twice and were beaten both times. The winner of the Corps comp will get a trip to Paris to play a French team."
May 1918
A photograph of Fred Alberts, recently killed in action, is given on another page. He was centre-forward for Merewether Association F.C. prior to enlisting and played in the last Interstate game against Queensland. The photograph was taken when Alberts was skipper of St.Bernard's, a Scottish team, just before he left for Australia. Writing from France to Secretary Larry Tamlyn, Lance-Corporal Peter Coppock, another State representative, states that he was near Alberts when he was killed. 'I can tell you I was very bad for a while after that happened. I am pleased to say that he died instantly, and had a glorious smile on his face. In him Soccerites have lost one of their best players.'
Jul 1918
Warrant-Officer Jack Dunn, the ex-goalkeeper of the Adamstown Rosebuds, writing to Dinny Hamilton, reported that he had just received another wound, and was again in hospital, but he expected to be sent to the firing-line shortly, as the wound was only slight. It is Jack's third wound, and he has also been in the hospital suffering from trench fever. He was the goalkeeper for Rosebuds when they won the Third Grade competition three years ago, and was recognised as one of the district's best keepers.
Sept 1918
Blackham, an old identity with the late Sydney Club, has been killed in action. He enlisted early in the war, and served under the banner of a Canadian Regiment. A large circle of Soccer friends will regret his demise.
Sept 1918
Jock Clarke, the old Cessnock and interdistrict player, who has seen three and a half year's active service in France, is on his way back to Australia. Jock was wounded and is to have six months' furlough.
February 1918
George Street : France "The CO believes in keeping us well exercised. Two sub-sections are off each afternoon, but have to play each other at football. It is almost compulsory. Our turn came today andi I've run myself stiff. It was "Aussies" vs "Tommies' and we played soccer. The "Aussies"came out on top; they have done every afternoon so far. Hardly anyone knows the rules or tricks of the game but they have weight, wind and football legs."